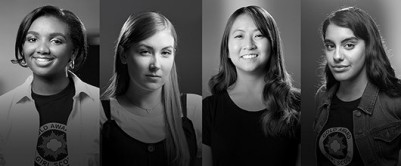 When it comes to changing the world, Gold Award Girl Scouts take the lead. Meet 10 extraordinary girls who possess the passion and the grit it takes to become a Gold Award Girl Scout. Each tackled an issue in her community and created a solution that brought lasting change to the world. Watch and you'll see why the Girl Scout Gold Award is the mark of the truly remarkable.
Continue >

The New Leader Portal contains resources that will come in handy during your Girl Scout year, including the Parent/Guardian Introduction Email, New Leader Resource Sheet, Instructions for Starting a Troop Bank Account and more!
Continue >

The National Council Session, which is the Girl Scouts of USA triennial business meeting will take place from Wednesday, October 21 – Friday October 23, 2020 in Orlando Florida. Applications to be a delegate are open September 1, 2019 through November 15, 2019.
Continue >

This publication features a plethora of interesting and valuable courses, Council news and opportunities tailored specifically for our adult volunteers.

Continue >

This Girl Scout family publication highlights opportunities in our focus areas, information on earning one of Girl Scouts' highest awards and endless program  opportunities that are sure to excite!

Continue >

Our parents and adult volunteers are vital to the success of eastern Missouri G.I.R.L.s (Go-getters, Innovators, Risk-takers, Leaders) TM.  At Girl Scouts of Eastern Missouri, we want leading a troop to be a great time, which is why we'll support you every step of the way.
Continue >

Welcome to Girl Scouts! Your G. I. R. L. (Go-getter, Innovator, Risk-taker, Leader) is now part of a community of 2.6 million girls and adults committed to her success. We're excited to provide you with resources, support and opportunities to make her Girl Scouting experience the best it can be.
Continue >