This publication features a plethora of interesting and valuable courses, Council news and opportunities tailored specifically for our adult volunteers.
Continue >

This Girl Scout family publication highlights opportunities in our focus areas, information on earning one of Girl Scouts' highest awards and endless program opportunities that are sure to excite!
Continue >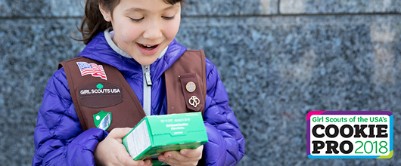 Get ready to enter our national Girl Scout Cookie Pro Contest 2018 to unlock an awesome, limited-edition Cookie Pro 2018 patch and the chance to travel to New York City for an all-expenses-paid Cookie Entrepreneur Experience, including a chance to have your smiling face featured on the Girl Scout Cookie box—SWEET.
Continue >

When you're a Girl Scout, you're also a G. I. R. L. (Go-getter, Innovater, Risk-taker, Leader). Read on to discover what it means to be a G. I. R. L. and change the world!
Continue >